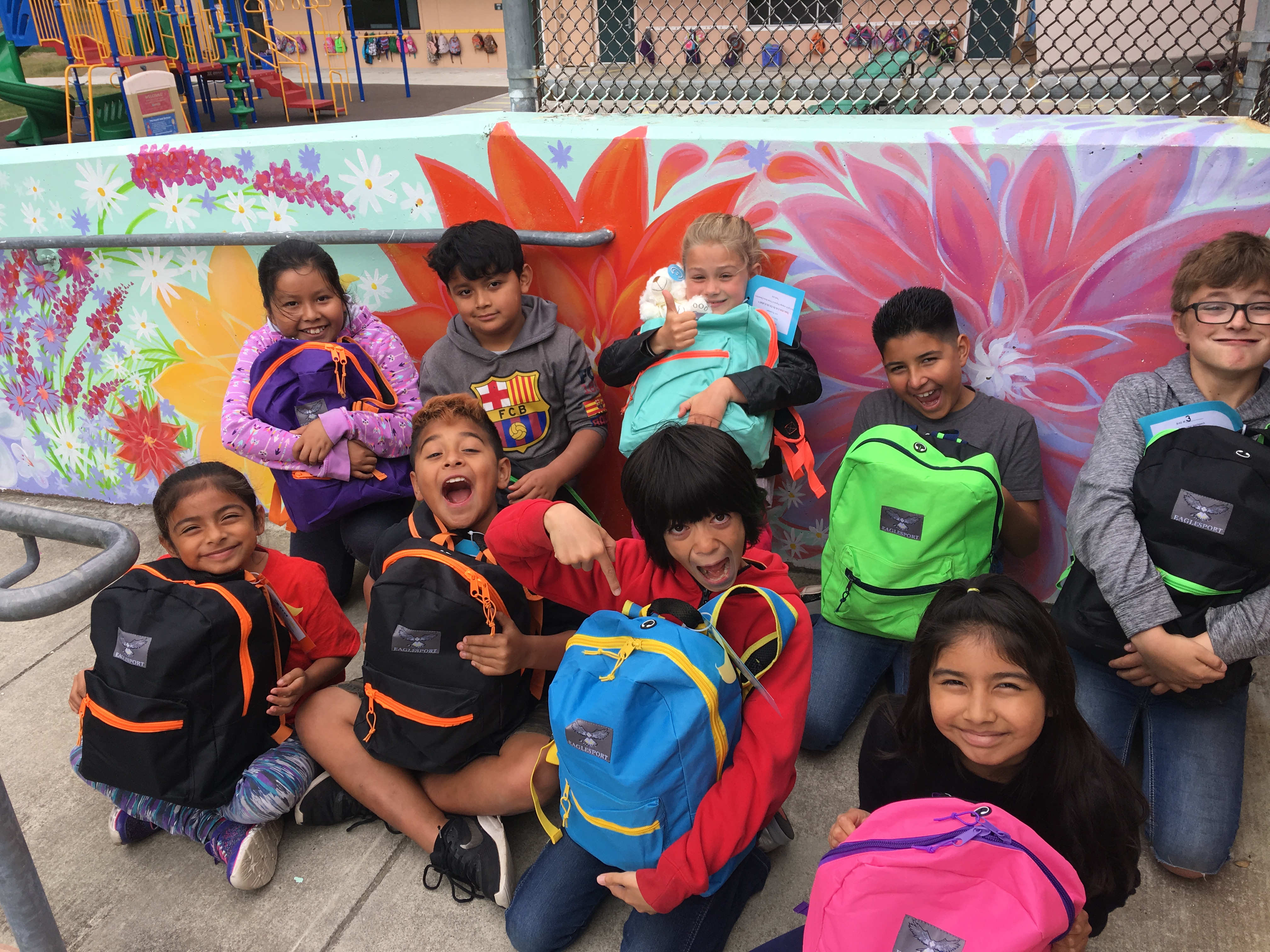 As an educator for over 33 years I am always so excited to see my students after the long summer break. The energy and excitement of the first day of school is unrivaled. It doesn't take long for that excitement to give way to disappointment though as I realize how much my English Language Development students have lost over the summer. While some spend time reading and staying active, it is apparent that many have spent endless hours watching TV and playing video games. In an attempt to minimize this academic loss, I requested donations of books, puzzles, workbooks and supplies from my colleagues to see if sending materials home over the summer would help.  I was flooded with beautiful donations all spring.The next challenge was to secure a way to get these materials home with the students. I had heard about the Sonoma Backpack Project, so I made a request. I was overjoyed to find out that not only would they donate 48 beautiful, brand new backpacks, but they were full of binders, paper, markers and misc. supplies! We tagged and numbered the backpacks and our summer loan program was born. The students were so excited! They drew numbers and then selected the color that they wanted and the books, games and materials that interested them at their ability level. They asked every day if they could take the backpacks home before summer break. When they finally got them, they were very proud. As August approaches, that old excitement is starting to build. I can't wait to see my students and hopefully, they will have kept busy over the summer. I can't thank the Sonoma Backpack Project enough for their generosity and for helping keep my students enthusiastic about learning.
-Jayne Lord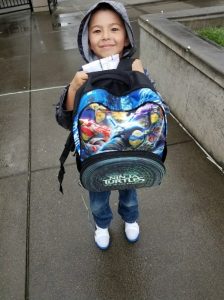 On Thursday, March 1, 2018, I went to Dutton Meadow Elementary School in Santa Rosa to pick up my grandson Francisco Javier Hernandez Jr. who is a 1st grader. I arrived to the Cool School after school daycare program on campus, and as I walked in I was stopped by the staff member in charge, Ms. Nunez. She brought to my attention that some of the other kids were making fun and teasing Francisco because his backpack shoulder straps were torn and coming apart. I was a little upset to hear that kids would do that to their friend. I responded to her by letting her know I work for DH Wine Compliance which started the organization, Sonoma County Backpack Project, and that her school was elected to receive some of the donated backpacks. She replied to me with a smile and said, "that's right we got them after the Sonoma County fires in October 2017." At that point, I signed my grandson out and we went home. The following day, I picked Francisco up again at the same daycare program. When I first walked in the door he ran up to me with a big smile on his face and said, "look grandma I got a new backpack." He had received a new ninja turtle's backpack with a coloring book and crayons inside, which was one of the donated backpacks. I gave him a hug and told him, "that is so cool." I looked over at Ms. Nunez and she also had a big smile to see him so happy. It brought a tear to my eyes to see how happy it made him and to know that the Sonoma County Backpack Project truly helps those kids that are in need of a new backpack. Now, a week later I
 have not been told of the other kids making fun or teasing him anymore.
I want to thank Drea Helfer-Lagourgue the founder and Ali Lord her executive personal assistant for all their hard work making sure the backpacks are getting out there to the schools in the under privileged areas. Also, I want to thank all the companies and individuals who donated the backpacks and supplies inside. Sonoma County Backpack Project is a great program and I feel honored to be a part of it and to have had my grandson as one of its recipients.
-Kari Hamilton
Girl Scout Troop 10718's Back to School Project
Girl Scout Troop 10718's hosted a "Back To School" project that provided over 200 students with clothes, socks, shoes, dental care bags, shampoo/conditioner, backpacks and school supplies. Sonoma County Backpack Project was thrilled to donate backpacks and schools supplies to the cause- way to go Troop 10718!
Read more about the project here.